YOUR EXCLUSIVE OFFER
Algae Vitamin D3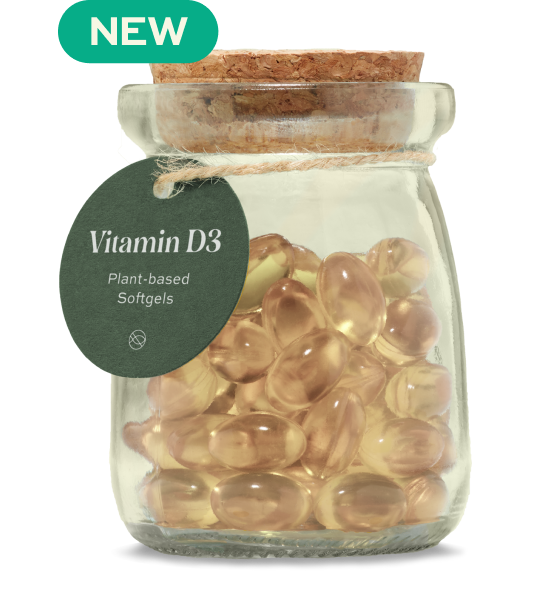 Save 50%
off your first 3 orders
Free UK Shipping on every order
Limited-Time Offer (Don't miss out)
Free Glass Jar worth £6 when you subscribe
About the offer
Dive health-first into our all-new Algae Vitamin D3 supplements with this exclusive offer!
This special offer includes a 50% discount on your first 3 subscription payments at just £7.50 per month - plus, as you'll receive 60 softgels every month, that's equal to 6 month's worth of Vitamin D3 softgels for the price of 3!
Simply click the "Subscribe and Save" button above and use the code D3FORME at checkout to unlock 50% off the first 3 months of your subscription. Then just sit back, relax and get ready for goodness galore to be delivered to your door.
Why take NothingFishy Algae Vitamin D3?
Our super-nourishing Vitamin D3 supplements are sustainably sourced from algae away from the ocean, allowing you to support your health and our seas at the same time. We use 100% recyclable packaging and offer a reusable glass jar with every first order. To further help reduce waste, our handy refill service comes with a fully recyclable eco-bag with absolutely no plastic.
What does my subscription include?
You'll receive a free NothingFishy Glass Jar plus a 100% recyclable refill pouch with 60 Vitamin D3 softgels inside.
To keep your softgels golden fresh, simply pour them into your jar, seal with the lid and keep them stored at room temperature away from direct sunlight.

We'll deliver your next refill every 30 days on a recurring basis unless you wish to cancel your subscription.
FAQs
What are the health benefits of Vitamin D3?

Vitamin D3 is necessary for the normal functioning of our immune system as well as the maintenance of healthy teeth, bones and muscles. Sustainably sourced from health-giving algae, our expertly formulated Vitamin D3 supplements draw power from ocean plants to give your body the vital nutrients it needs, all while safeguarding our seas.

How should I take NothingFishy Vitamin D3 supplements?
We recommend taking our supplements up to twice a day with a meal. They're super easy to swallow and won't leave you with an aftertaste, just a feeling of fish-free fulfilment! Always store at room temperature and keep away from direct sunlight.
Who are NothingFishy Vitamin D3 supplements for?
Our algae-based vitamin D3 supplements are a plant-based alternative to animal-derived D3 vitamins, and can be used as a way to help support those with a Vitamin D3 deficiency. It can be difficult to get Vitamin D3 from your diet and sunlight alone, which is why we encourage regularly supplementing it.
Can I take NothingFishy Omega 3 and Vitamin D3 supplements together?
Absolutely. Algae is the original (not to mention best) source of Omega 3 and it naturally contains Vitamin D3 as well! Vitamin D3 is a fat-soluble vitamin which means it is better absorbed by the body when taken with fat. This makes Omega 3 essential fatty acids great to take alongside a Vitamin D3 supplement as the Omega 3 will help increase the absorption of Vitamin D3. The combination has been evidenced to help specifically with cardiovascular health, vision, brain function and immunity.
What is the softgel capsule made from?
The shell is composed of Compound Hydroxypropyl Starch, Glycerol, and Purified Water. 
Are there certain foods which help with the absorption of Vitamin D3?
Vitamin D3 on its own is a fat-soluble vitamin, so eating foods with a high fat content will aid the absorption rate. The likes of nuts, seeds and avocados are among some of the best high-fat plant-based foods to take alongside Vitamin D3.
How does the NothingFishy Refill Service work?
Our Refill Service saves you 25% off our usual price and makes it easier than ever to stay topped up on your supplements. Simply subscribe to our service and we'll send you your supplements every month or two in a postbox friendly sealed eco-bag. You'll be able to pour them into your glass jar from your original order and recycle the bag, meaning nothing is wasted.

Once your 3-month offer ends, you will still be saving 25% off our usual price when you use our refill service!